Winnifred "Winnie" Guster
is the wife of
Bill Guster
and the mother of
Gus
and
Joy Guster
. She is portrayed by
Phylicia Rashad
.
Biography
Edit
Winnie and Bill both historically dislike Shawn and think he has a bad influence on Gus, though Shawn seems to have it in his head that they like him. When Gus got into an exclusive school, Winnie and Bill didn't let him go because it cost too much though Gus argued that he could have gotten a scholarship.
Gus' Dad May Have Killed An Old Guy
Edit
In "Gus' Dad May Have Killed An Old Guy", Winnie got arrested when her next door neighbor is murdered. It turns out the neighbor had been blackmailing her after seeing Bill and herself commit insurance fraud. Shawn's able to prove that Gus's parents have nothing to do with the murder and finally they start treating him as a member of the family.
Christmas Joy
Edit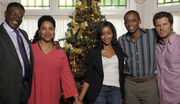 In "Christmas Joy", Shawn goes to interview a bookie and he runs into Winnie, who is paying off a debt. Shawn promises to keep this a secret from the family. Shawn also discovers an equally bad secret about Bill. Eventually, both secrets come out, and Joy is surprised her mom knows how to find a bookie. Joy comes out with a secret of her own and everyone leaves mad at each other. In the end, they reconcile and spend the rest of Christmas together.
Season Eight
Edit
She appears in "A Nightmare on State Street".
Numerous small references are made to Ms Rashad's role as 'America's mom' in "The Cosby Show".

The gallery for Winnifred Guster can be found here.