Rchie743
Gender:
Female
Age:
442
Status:
Bureaucrat
Hair Color:
Black/Very Dark Brown
Hey, I'm rchie743 and apparently you have landed on my page, which means that I should probably show you around my humble abode and tell you about myself!
About myself
Edit
For those of you who think that I am some guy named "Richard", I hate to bust your bubble, but I am a GIRL. You wouldn't believe number of times that people though I was a boy. Once, on a separate wiki, someone believed that I was boy for around six months. Needless to say, when the truth came out, it was incredibly awkward.
Alright, so I have that covered. I started watching Psych around 3 years ago (I think), and it sort of became my most favoritest show in the history of ever. I joined this wiki in late December of last year, so it's almost been a year here for me. I adopted the wiki a month later, and I have been fixing up and managing this lovely wiki ever since.
Even though Psych is my all time favorite show, I do watch other things. I enjoy watching Doctor Who and sometimes The Big Bang Theory. I love to watch movies, and the Marvel Cinematic Universe ones are my favorite. I just saw Thor: The Dark World recently, and it was spectacular. I also enjoy the Lord of the Rings and the upcoming Hobbit films. Benedict Cumberbatch as Smaug = Amazing. I love to read, and I specialize in fantasy books. If they have dragons, even better. I also the proud owner of one Psych's Guide to Crime Fighting for the Totally Unqualified book (which I shall now call PG2CF4TTU), which is sitting upstairs, in my room. It's seriously amazing. If you love Psych, you will love it. Be warned, there is a tad bit of swearing here and there. Other than that, it's pure awesomesauce.
Hrmm, I don't really have much else to tell you about myself. If you have any questions, concerns, or just want to talk, feel free drop a message on my message wall.
GIFs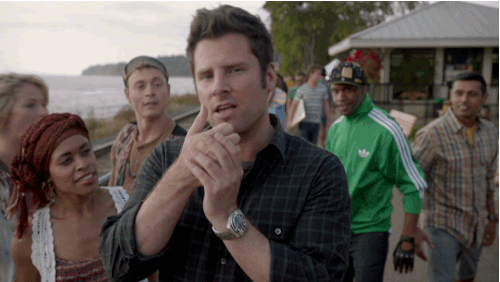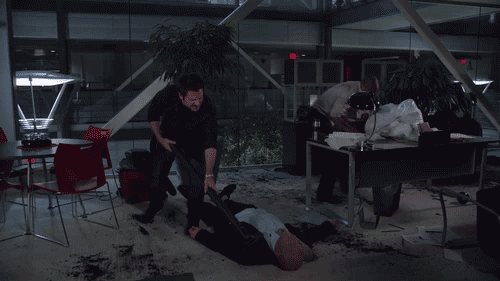 Videos
Favorite Quotes
Shawn: Believe me, I know what it feels like growing up with an older sister who gets all the attention.
Chief Vick: I didn't know you had an older sister, Spencer.
Shawn: I don't. But I did watch a lot of reruns of The Brady Bunch.
---
Lyin' Ryan: The night before, I went to this restaurant to get a basket of these things called Fries Quatro Queso Dos Fritos. You know, the ones where they inject potatoes with a four-cheese mixture, fry them three-quarters of the way, pull them out, batter them, fry them again, and then serve them with bacon and an ancho chile sour cream? Anyway, as I was sitting there, a car speeds right through the storefront across the street. It makes such a loud noise, I had to turn my head and look, and that is when I overheard the guy with the curlicues on his face tell the other guy at the corner table about the assassination plot.
Shawn: [in the observation room] Can it be true?
Gus: No way.
Shawn: I mean, is it even possible?
Gus: I couldn't imagine.
Shawn: There's no way you could prepare a fry like that. That'd be way too much for the... for the human palate to manage.
Gus: It would be a flavor seizure.
Chief Vick: Gentlemen, please? Don't be ridiculous.
Shawn: She's right. Let's just take a minute here to think things through. [pause]
Shawn: They must be parboiling the potato first.
Photos
Community content is available under
CC-BY-SA
unless otherwise noted.