The Santa Barbara Police Department is the police headquarters for the City of Santa Barbara.
In 1978, there was a plot to blow up the station. Henry Spencer, who was a patrol officer at the time, caught the criminal behind the plot and put him behind bars.
Appearance
Edit
It is first seen in the pilot episode, but was smaller than the later version. It had a white exterior, with a smaller glass interior. Subsequently, a different building is used, with cherry blossom trees in the front and a department sign in the front. The exterior has a cream outer and orange-red highlights for the roof. The interior is now a light mustard yellow, brown accents.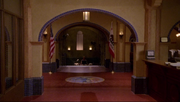 Interior Layout
Edit
The inside of the department is designed like an adobe, with decorative tiles.
Chief's Office
Edit
Chief Vick
's office (the domain of
Harris Trout
 for a brief period in season 8, but now presumably empty) is a glass-door enclosed area in the SBPD. It has burgundy floors, a desk, and a table with four chairs around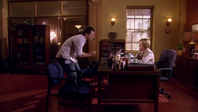 it. Her office is usually where all of the meetings are held right before they begin investigating a case. In "
Bounty Hunters!
", 
Carlton Lassiter
acted as chief for a few days and used her office until she got back.
Employees
Edit
Former Employees
Edit