"Psych: The Musical" is a Season Seven episode of Psych, but it aired as a two-hour special on December 15, 2013, at 9/8c, outside of the rest of the season. The events of the episode occur before Lassiter and Marlowe's wedding.
As the title suggests, it's a musical.
Plot Summary
Edit
Shawn and Gus track down playwright madman named Z (Anthony Rapp), who six years earlier was deemed criminally insane after locking a critic in a back room of the theater that he burned to the ground, and who has been locked in a mental institution since. Shawn and Gus are forced to consult with the one person Z confided in while in the institution, a dangerous villain from Shawn's past.
Musical Numbers
Edit
Production
Edit
Filming for "Psych: The Musical" began on October 2, 2012. The DVD was released on December 17, 2013.
Anthony Rapp is known for originating the role of "Mark Cohen" in the musical Rent and reprising the role in the movie of the same name.
Barry Bostwick is known as the original "Danny Zuko" from the famed Broadway production of Grease (John Travolta's role in the movie) and "Brad" from the 1975 film of The Rocky Horror Picture Show.
Ally Sheedy starred as "Hedwig" in the musical Hedwig and the Angry Inch in the later half of 1999 until she quit after her erratic behavior prompted the producers to ask her to leave. The show closed in April 2000 and almost exactly 14 years later, had its Broadway premiere with Neil Patrick Harris playing the role of Hedwig for which he won the Tony Award.
Within the timeline of the series, the episode takes place prior to the Vicellio-Lassiter wedding.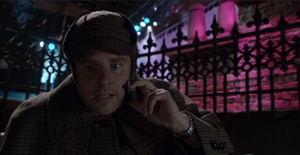 The gallery for Psych: The Musical can be found here.
Digital Releases
Edit
Community content is available under
CC-BY-SA
unless otherwise noted.