Juliet Lynn "Jules" O'Hara (b. October 1981) is a main character on the USA Network comedy Psych portrayed by Maggie Lawson. She attended the University of Miami.
Biography
Edit
Born in 1981, she was raised in a family of brothers and is shown to be close with both her parents and her siblings. Although she is initially frustrated by her coworkers not taking her seriously enough due to her relatively young age, as the series progresses she is given more responsibility, taking charge of the station when authority figures weren't present. Juliet grew up with an absent father, as her dad, Frank, was a con man who left her. Their relationship was fixed in In for a Penny... when Frank reveals to Juliet that he did come to her events growing up, just didn't reveal himself. Juliet has a step dad, Lloyd French, who is introduced in "No Country for Two Old Men".
He too had some legal troubles back in the day but never told his wife (and Frank's ex-wife) Maryanne because he didn't want to be another Frank. It is possible that this is the man that was introduced in the episode "Spellingg Bee" when Shawn first meets her and reveals that her parents had been married for 30 years. Juliet is shown to have many hobbies. Juliet O'Hara first appears undercover in the show's second episode, Spellingg Bee, as a recently-transferred junior detective from Miami Beach, where she attended the University of Miami, replacing Lucinda Barry as Head Detective Carlton Lassiter's partner. She has grown more assertive with her partner, and actors Maggie Lawson and Timothy Omundson (who plays Lassiter) both suggest that a strange mutual respect has developed between them.
In "1967: A Psych Odyssey" Juliet left to be the Head Detective of the San Francisco Police Department in San Francisco. In The Break-Up, Shawn moves to San Francisco with her, and proposes to her, which she accepts.
Personality
Edit
Juliet seems to present a gentle counterpoint to Lassiter's gruff, rigid style. She reminds her partner repeatedly to "be sensitive" with the media, the victims, and the witnesses of their cases. She has shown that she cares for her partner by helping Shawn solve a case for him (in order to get him back on his feet when he was upset about his separation with his wife), by refusing to believe that he has died in the episode Lassie Jerky and also through little things, like trying to arrange a birthday party for him.
Juliet also showed that she cared for Carlton's well-being when she allowed his girlfriend, Marlowe, to live with her and Shawn in order to allow Carlton to be with her more often. On the other hand, she has also been very competitive with him, like the time when they were trying to prove who was better based on their scores on the detective exam (Juliet scored 98.4%, taking the exam in Miami, to Lassie's 97.2%, although Shawn rather killed the debate by revealing that he had, at age 15, scored a perfect 100% on the test). She also has a strong friendship with Lassiter, who acts like a brother towards her.
Similarly, she has been almost sneaky about getting what she wants, as was shown in "Cirque du Soul" when she got Woody, the department's coroner, and Ursula, Marlowe's parole officer and a woman who still loved Carlton, together. As Ursula was not allowing Marlowe and Carlton to live together, which was caused by a resentment towards Carlton when he never called her back after a one-night stand, Juliet's arrangement for her with Woody made her more lenient towards the two of them.
Attitude Toward Shawn 
Edit
Unlike Lassiter, she is friendly with Shawn and willing to work with him and Gus. Although Juliet is bemused by Shawn at first, she has slowly gained respect for him and by the second season, Juliet reveals a "very friendly, comfortable relationship". Despite some skepticism, Juliet does believe that Shawn is psychic. She asked him out at the end of the third season but was turned down when he told her that he was on a date with Abigail. Throughout the fourth season, she showed that she was slightly jealous of his relationship with his high school sweetheart, but did not make it obvious to anyone. By the end of the fifth season, Shawn and Juliet are romantically involved.
By the middle of the sixth season, Shawn was willing to marry her in order to make sure that he never lost her. Her older brother Ewan, is an army soldier whom she had to arrest when he attempted to murder an actual killer to protect the army. Ewan was supposed to go to prison but his high-level bosses made him vanish. Juliet claims Ewan was the reason she became a cop, that him joining the military gave her enough confidence to join the police force. She has a rocky relationship with her estranged con-man father, who is portrayed by William Shatner. She has also shown that she cares for her mother by protecting her from the fact that her stepfather was a con-man, knowing that her mother loved him, and even decides not to tell her mother after an incident in Mexico when she realized that her stepfather actually loved her mother. Despite having two cats in "Spellingg Bee", she has shown a greater fondness for dogs as the series progresses and agrees to have pugs with Shawn when they start living together.
Relationships
Edit
With Shawn Spencer
Edit
Juliet and Shawn had an unspoken-sometimes-spoken relationship that lasted for five seasons. It was clear Shawn had feelings for Juliet, but she had sent mixed signals throughout the show. Juliet finally confirmed her feelings for Shawn in the last episode of the third season. In season five, they finally begin dating, In the middle of season seven ("Deez Nups"), their relationship took a downward spiral. Juliet found out that Shawn is not a psychic. Upset, she throws a drink in his face and storms off leaving their relationship in question.
In "Santa Barbarian Candidate" Shawn is ready to throw the whole Psych thing away when Juliet asks him to tell the chief, but Juliet intervenes and saves his cover. By the end, they are still not together, but they come to some mutual understanding and Shawn said he would wait however long it takes. They are being friendly to each other since then and even had a one night stand. In the end of the episode "Nip and Suck It," Shawn mentions to Gus that they are officially back together.
In "Juliet Takes a Luvvah," Shawn tells Juliet that he is going to move in with his dad, much to her dismay. When Gus shows Shawn a picture of "Helene," who is actually Juliet, Shawn believes that she is upset about his decision and confronts her in a restaurant with a date, where he realizes that she was only doing that as an undercover assignment. He has shown jealousy with all of her dates with possible suspects. Later, when she tries to get a date with "Mr. Possibilities," she shows a clear attraction to the possible murderer, which makes Shawn upset. At the end of the episode, when he shows that he is upset because she kissed a murderer, she responds that he made out with Lassiter, despite the fact that the two of them only pretended to be a homosexual couple in order to keep Juliet's cover while she was on a date with a possible suspect. When he states that he wants to live with her, she agrees and they kiss on a bridge.
In "Deez Nups," though the two don't talk much casually for most of the episode, in the very end, Juliet finds out about the flyer Shawn had, which would have, and had, given him the information to solve the case. She confronts him, and Shawn has flashbacks of a time when he and Juliet were together, and he looks at the other happy people around him. He comes out with the truth, and a devastated Juliet throws a drink on him, and stomps off, leaving their relationship a mess, and Shawn wondering if he'll ever be with her again.
In "Right Turn or Left for Dead" the whole episode plays as two separate futures. In one future, Shawn gives Juliet Chief Vick's shawl (meaning that Juliet never finds out the truth). They go on with their lives and Juliet thinks of marriage herself. In the other future, Juliet is very very upset with Shawn and shows negativity towards him. Eventually, Juliet asks Shawn that she cannot forgive him and asks him to move out.
In "Juliet Wears the Pantsuit" Shawn is deliberately delaying his packing and then makes a clear stance that he will not move out. Meanwhile, Juliet is looking for a new roommate. Shawn continues to interfere when he suspects her roommate may be a murderer. It ends up that her roommate is an identity thief and was running away from her ex-husband. Shawn shows concern for Juliet's safety and rushes to help her but Juliet apprehends the ex-husband herself. While Shawn fixes the glass, they talk and it seems that Juliet is coming to some tiny bit of understanding, nothing obvious but still a hint of it.
In "Santa Barbarian Candidate" during the mayor's speech, he proudly boasts of his psychic abilities with Juliet right in front of him. Later when he tries to talk to Juliet, she says she was disgusted and she thought they were making some progress, until that boast. Later, when Shawn was going undercover by running for mayor, he had to attend an event where he needed to bring a "date." Although Juliet wasn't happy about it, she went with him "for the case" as SBPD was also looking into Swagerty's involvement. After an intimate moment on the dance floor, Juliet walked away upset. Shawn followed. Juliet said she still had feelings for Shawn but until Shawn tells about his fake psychic abilities, she cannot forgive him.
Then she insists that for things to go back to the way they were, he has to tell the chief the truth. Shawn refuses to do so, and Juliet leaves upset. Later, after solving the case, Shawn and Gus walk in the SBPD headquarters with Gus repeatedly asking Shawn to leave things how they are, but Shawn will hear none of it. He heads to Chief Vick's office and stops to look at Juliet. She looks back and after noticing Gus at the front desk realizes that Shawn is really going to tell Chief Vick the truth. Shawn starts to tell Chief Vick by first talking about how they "really" got the crime photos. Juliet bursts in telling Shawn led her to do an unwarranted search and they got the photos. Chief Vick is upset and tells them off. When she reminds them of what their roles are,"... and Mr. Spencer, you are a..." to which Juliet completes as ".... psychic!" Both meet up later and Juliet says she did that because she realized what Shawn was willing to do and it would be selfish of her to throw away everything. Shawn thinks they are back together but Juliet says that she's not ready and Shawn responds that he will always wait for her.
At the end of "Nip and Suck It," Shawn announces to Gus that he and Juliet are officially back together.
In 1967: A Psych Odyssey Juliet discloses that she has an offer to be the Head Detective of the San Francisco Police Department, and looks for the input of her friends and colleagues, particularly Shawn. At first, simply for his sake, she appears to have decided not to go. 
In The Break-Up, Shawn moves to San Francisco to be with Juliet. He then proposes to her, in which she accepts, but the ring is stolen out of Shawn's hands at the last minute, resulting in them chasing after the criminal together.
With Declan Rand
Edit
In the season five episode Shawn 2.0, Juliet had a brief relationship with criminal profiler Declan Rand. They met at a crime scene when Declan asked her out. She accepted and they spent the next few episodes together. They broke up before going on vacation together because Juliet had feelings for Shawn.
With Scott Seaver
Edit
They broke it off in 2003 and promised to meet each other seven years later. He ends up not showing so Juliet starts digging into his past. It turns out he is in the witness protection program for witnessing a murder. At the end of "A Very Juliet Episode", they end up parting ways, but not before promising each other to meet up back in a year.
"

Detective Lassiter is literally on fire today.

"

— Juliet (from 65 Million Years Off)

"

I feel like that scene in 'Grease'.

"

— Juliet (from A Very Juliet Episode)

"

God I used to be a detective, now I'm a babysitter!

"

— Juliet (from This Episode Sucks)

"

Wow, you guys are actually devolving.

"

— Juliet (from This Episode Sucks)

"

I did. You guys immediately ate it.

"

— Juliet (from Dual Spires)

"

You disturb me. And your theory on this murder disturbs me. And you disturb me.

"

— Juliet (from Chivalry Is Not Dead... But Someone Is)
Juliet first appears in S1E2 "Spellingg Bee" as Lassiter's new partner, replacing Lucinda Barry.
In her first appearance, it is mentioned that she has two cats, but these are never seen.
Just like Lassiter, Juliet doesn't initially believe that Shawn is truly psychic. Unlike Lassiter, however, she starts believing him after a while and then considers him a worthy addition to the force.
There are four episodes that have Juliet's name in the title: S4E12 "A Very Juliet Episode", S5E1 "Romeo and Juliet and Juliet", S7E2 "Juliet Takes a Luvvah", S7E9 "Juliet Wears the Pantsuit".
In S6E7 "In for a Penny...", her father mentions that she is a good singer. Eventually we do hear her sing in Psych: The Musical.
She is very good with her nephews.
She loves football players, as mentioned a few times in S3E13 "Any Given Friday Night at 10pm, 9pm Central".
She proves to have a great immune system in S4E13 "Death Is in the Air". She cuts herself on a piece of glass while handling a virus, but the doctor says she was not affected. 
Juliet can get very jealous whenever her boyfriends get too cosy with other women, as can be seen happening to Shawn in e.g. S6E12 "Shawn and the Real Girl".
She most likely wanted to become a cop because of her father's criminal ways.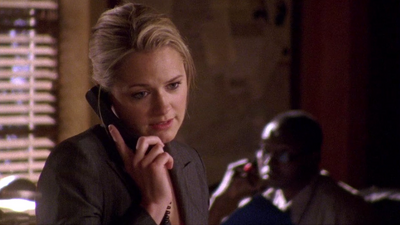 The gallery for Juliet O'Hara can be found here.
Community content is available under
CC-BY-SA
unless otherwise noted.