William "Bill" Guster is the husband of Winnie Guster and the father of Gus and Joy. He is portrayed first by Ernie Hudson, then by Keith David.
Biography
Edit
Bill and Winnie both dislike Shawn Spencer and think he has a bad influence on Gus, though Shawn seems to think that they like him. When Gus got into an exclusive school, Winnie and Bill didn't let him go because it cost to much though Gus argued that he could have gotten a scholarship.
Appearances
Edit
In "Gus' Dad May Have Killed an Old Guy", Bill is arrested for murdering his neighbor when the police learn he has an ongoing feud with said neighbor. Then neighbor had been stealing and blackmailing his neighbors for years. Shawn's able to prove that Gus's parents have nothing to do with the murder and finally they start treating him as a member of the family.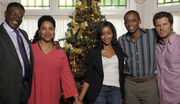 Christmas Joy
Edit
In "Christmas Joy", Shawn discovers secrets that both Winnie and Bill are keeping from their families. Bill's secret is that he has been laid off from his job at Raytheon, and has been leaving everyday trying to find a new one. Joy comes out with a secret of her own: that her and Shawn had a romantic fling ten years ago, and wanted to resume it now. This leaves everyone mad at each other, but they later reconcile and spend the rest of Christmas together.

The gallery page for Bill Guster can be found here.
Community content is available under
CC-BY-SA
unless otherwise noted.